Menagerie Collection Featured at High Point Market and Interior Design Mag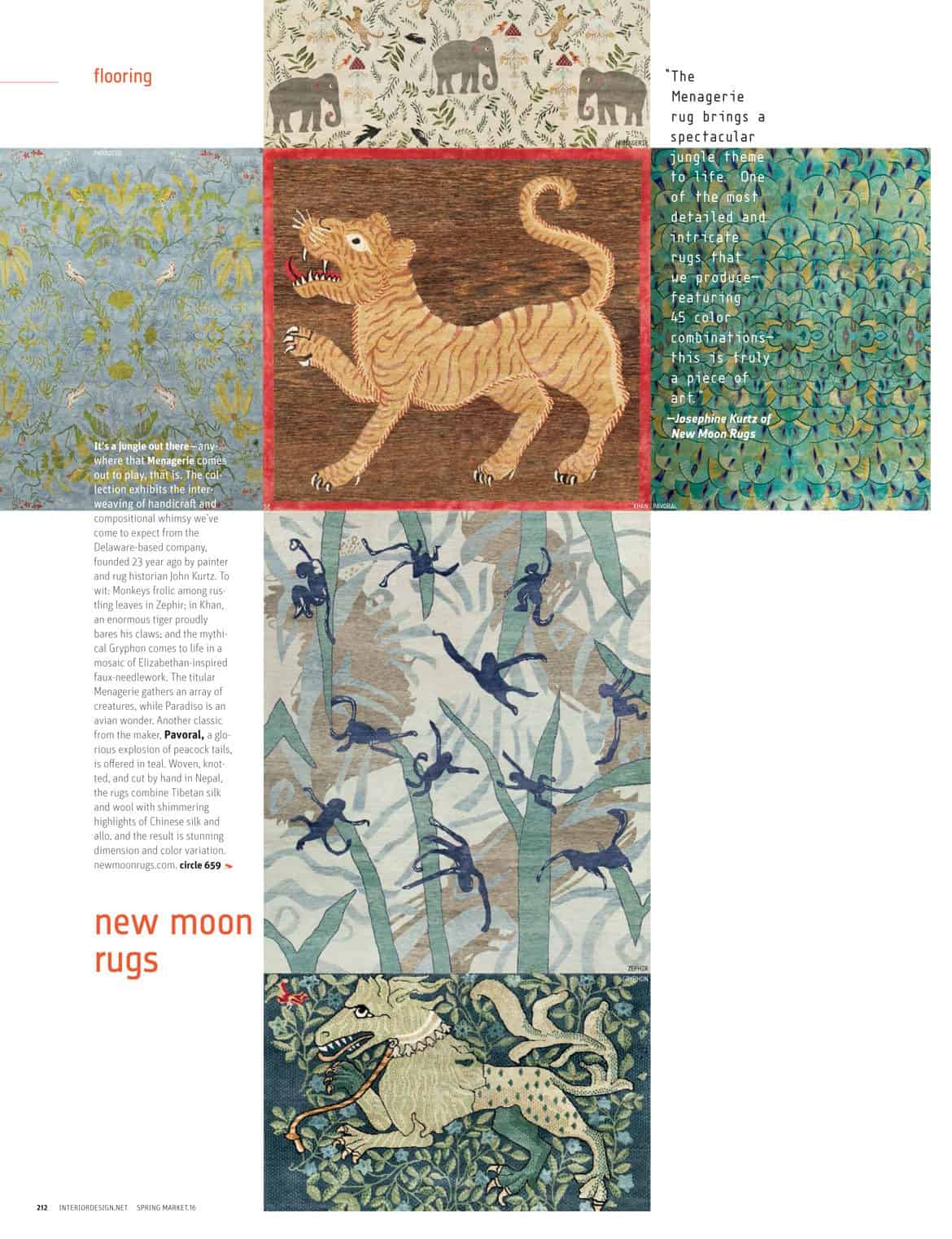 Announcing some exciting news regarding the new Menagerie Rug Collection! The new designs recently premiered in North Carolina's High Point Market, and were also featured in a full-page story in Interior Design Magazine.
During the premier, visitors were invited to explore The Suites At Market Square and browse the full collection; it was a fun day! We were also grateful to be included in an issue of Interior Design Magazine, with a full-page article. "The result is stunning dimension and color variation," the article said in regards to the collection.
The animal-inspired pieces in the Menagerie Collection combine the traditional elements of late Renaissance naturalistic design with a modern day graphic sensibility. As always, they're handcrafted in New Moon's true 100-knot quality.
Erika Kurtz, our lead designer and CEO, explains the conception of this collection. "Animals and naturalistic forms have been inspiration for hand-woven textiles and tapestries since the beginning," Erika says. "These highly decorative scenes combine historical iconography in a contemporary layout."
Some of the Menagerie rug designs include…
Khan, ebony: An ancient tiger comes to life in this playful design. Features Tibetan wool, Chinese silk, natural nettle fibers, and hues of gold, russet and bronze.
Menagerie, bohemia: This magical nature scene features tones of pewter, red, grey-blue, ebony, chocolate brown, soft gold, apricot, coral, dusty lavender, plum, forest green, lime green, teal and sky blue.
Gryphon: Elizabethan needlework comes to life in this fantasy. This mosaic-like design combines the aesthetics of the past and present to create a unique and vibrant piece.
Zephir, rainforest or jungle cool: A whimsical Deco jungle, home to a bevy of very happy monkeys. The heathered Tibetan wool background of "rainforest" features hues of cream, taupe, silvery-blue, rich lavender and muted teal, while the background of "jungle cool" features hues of grey-blue and blue.
You can view the full Menagerie Rug Collection here!