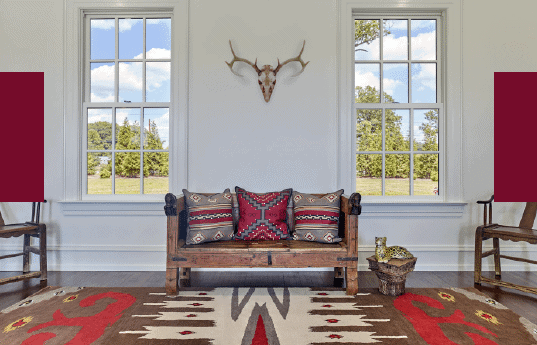 Feel The Desert Heat With New Moon's Mesa Collection
Bring your dream luxury lodge to life with the Mesa Collection rugs and pillows.
Saddle up and drift out to the American Southwest with our vibrant palette of earth tones and desert hues inspired by traditional Navajo motifs. As always, New Moon's Mesa rugs combine superior quality with modern design.
Each rug is made with fine Tibetan wool. Soft pile weave replaces the traditional flat weave of typical Navajo-inspired carpets. We use a cross-weaving technique, creating a flexible but virtually unbreakable foundation. And while the vibrancy of most rugs dull over time, New Moon rugs grow more beautiful with the passing years, because we don't wash our rugs with harsh chemicals like most others.
For our Mesa Pillows we've taken some of our most popular Southwestern inspired rug designs and translated them onto our pillow designs. They are all hand-screen printed on hand-woven linen. Our pillows are then finished with contrast piping and a solid reverse. Each pillow measures 22″ by 22″ inches and comes stuffed with a feather/down insert.